Posted March 11, 2015
Changing your timing belt is NOT optional – but waiting until it breaks to address any issues is. And that is a risk you shouldn't take.
Most manufacturers recommend changing the timing belt at a specific mileage, usually between 90 and 105 thousand miles. But you should NOT wait until the last possible minute to have your timing belt replaced. Replacing it early can save you thousands of dollars.
If your vehicle is due for a timing belt replacement, or to find out what your manufacturer recommends, call our experts at 616.796.9929.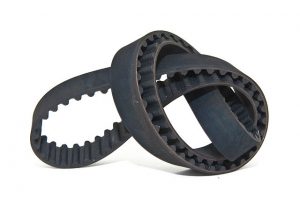 With the timing belt, it's not if it will fail – it's WHEN. This rubber belt is critical to your vehicle's performance – and the operation of the auto engine.
The timing belt is a rubber belt with teeth, which travels on pulleys through the engine in your vehicle. The teeth on the belt catch on gears, like on the water pump to regulate the coolant entering the engine.
There are two common reasons that your timing belt would fail:
Age & Miles – As your vehicle travels more miles, the rubber teeth on the timing belt wear down. If worn to the point that the timing belt can no longer grip the gears, it will slip and cause the pistons and valves to pump out of sync. Most manufacturers recommend replacing the timing belt between 90 and 105 thousand miles.
Water Pump Seizure – If the water pump in your vehicle seizes, the gear will stop turning and the force will break the timing belt. This is often caused by cooling system failure. If the coolant hasn't been flushed regularly, your vehicle is at risk of cooling system and water pump failure.
If your vehicle has an interference engine, a broken timing belt could mean thousands of dollars in damage. (The average cost to replace an engine after a blown timing belt can run from $3,000 to $10,000 and higher depending on the vehicle.)
In interference engines, pistons (the large cylinders in the illustration below) move up and down. Above these pistons, there are smaller valves that simultaneously pump up and down. The timing belt controls the operation of both these elements, ensuring that they move in sync so the valves and pistons never meet.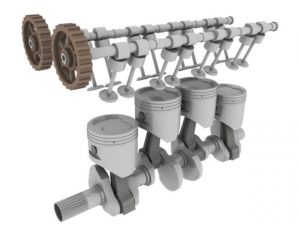 When the timing belt slips or breaks in an interference engine, the pistons and valves become out of sync – the pistons continue to pump, forcefully hitting (and almost always breaking) the valves.
What should have been routine maintenance, replacing the timing belt in your vehicle, has now become a costly engine repair – replacing the timing belt early can save you THOUSANDS of dollars.
To find out if your vehicle needs a new timing belt or schedule your next appointment, call us at 616.796.9929.
Even in non-interference engines, a broken timing belt can immediately shut off your vehicles engine, leaving you and your family stranded on the side of the road with a vehicle that can no longer run. By putting off timing belt replacement to save some money now, you're risking the safety of your family and vehicle – and risking extensive damage that will cost much more.
In this video, the Monday Morning Mechanic reviews the importance of Changing your timing belt EARLY to save BIG BUCKS!
"Changing your timing belt isn't optional, but waiting until it breaks before you do can cost you thousands. While you're having it changed, though, you can have several other items addressed at the same time, which can save you a ton of money for labor. While your shop is under the hood replacing the timing belt, have them change the water pump, and the tensioners, and you'll save a lot in the long run."
If your vehicle is due for a timing belt replacement, don't delay! Give our auto repair experts a call at 616.796.9929 to schedule your service, replace your timing belt, and save yourself from the danger and inconvenience of extensive damage and costly repairs.
Categories: Car Repair, Uncategorized
Tags: , Preventative Maintenance, timing belt repair, timing belt replacements, vehicle maintenance, vehicle timing belts